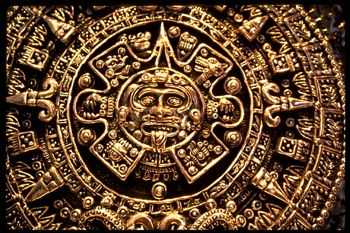 The Mayan calendar is humanity's best source of information about the future and the rhythm of our current phase of evolution, known as the Galactic Underworld.
A key concept for understanding this evolution is the Global Brain: The crystalline core of the Earth acts as a crystal skull that relays the cosmic information to the human beings and the prophetic Mayan calendar provides the rhythm for this.
The Cosmic Time Plan according to the Mayan calendar is the cycles of time which match important periods in the evolutionary data banks of Earth and the Milky Way Galaxy and that the calendar describes the evolutionary stage to come as an ongoing process of Enlightenment of humanity (
Evolution of Consciousness
), referred to as the awakening of the World Mind, with the 13 Crystal Skulls of ancient Maya prophecy also playing a role.
The basic concept involves the use of 3 Calendars that work together
(even though the Maya actually utilized as many as 17 different calendars for various purposes
).
Haab (
Earth Seasonal
) – 365 day calendar. Only used for bookkeeping and records (
i.e., taxes - ironically this is the one we Westerners cherish!
).
Tzolkin (
Count of Days
) – 13 intentions, 20 aspects - 260 day calendar – personal/astrological calendar – all Mayan First Names are the day's intention/aspect (
energy
). Every day was a sacred event and held a unique intention/aspect combination to be celebrated.
Tun (
Divine/Prophetic
) – 360 day calendar. Every 52 revolutions meets up with original point on Tzolkin calendar. At this point, all coals and all sparks in civilization were put out, and all debts were absolved. At age 51 and ¾, Mayan and Native American cultures regarded their members as
"elders"
because they had lived through the entire cycle.
In the Jewish Bible, Leviticus 25:10
"And ye shall hallow the fiftieth year, and proclaim liberty throughout all the land unto all the inhabitants thereof: it shall be a jubilee unto you; And ye shall return every man unto his possession, and ye shall return every man unto his family."

 
A portion of this verse is inscribed on the Liberty Bell - yet I don't remember my debts being absolved every 50-ish years... wonder why the Bell cracked?
13 cycles (
or intentions
) between each consciousness movement. 7 days, 6 nights (
Heavens
), At each cycle, important events for consciousness occur. Days and nights can still represent 'negative' events – for the consciousness as a whole to learn.
These Heavens are identical with what the Jews, Christians and Muslims have called the Seven Days and Six Nights of God's Creation, and also are important among Buddhists and Hindus. The Hindus refer to Creation as the "
108 transformations of Shiva
" which becomes understandable if the Creation of each of the 9 Underworlds is effected by Thirteen Heavens undergoing 12 transformations between themselves (
9 x 12 = 108
).